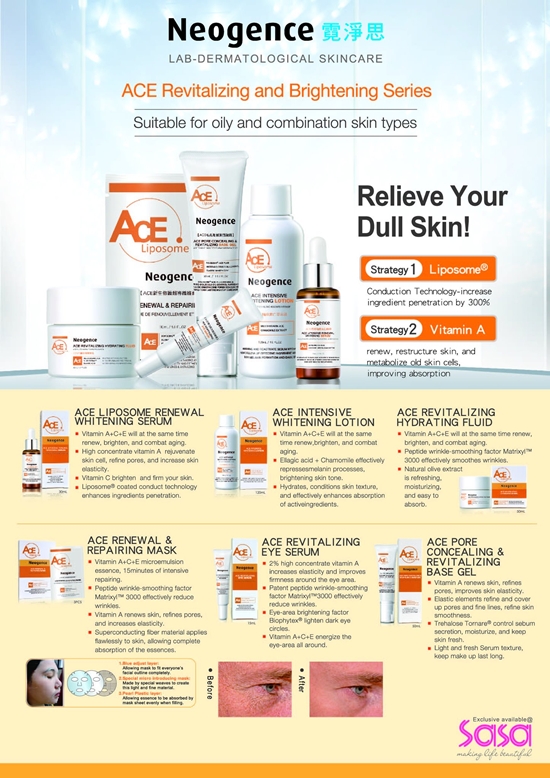 Neogence ACE Revitalizing and Brightening Series, the All-Round Skin Revitalizing System – for Skin Renewal, Brightening, Protection and Anti-Oxidant. A skincare product line developed and designed for combination and oily skins.
Target to "Restructure and Renew the Heavy Skin", Neogence has applied "Patent Biochemical Conduction Technology" in the series to further enhance the quality of this series. Clinical tests have proven that the skin absorption is 300% increased after using the ACE products, allowing the active ingredients penetrate into your skin effectively and easily.
With help of Vitamin A, C, and E in skin renewing, lightening, and anti-oxidant, plus another two patent ingredients, Biophytex (eye contour brightening factor) and Matrixyl™3000 (fine lines smoothing factor), ACE series effectively release skin from dullness and roughness, darkness and restore skin firmness.
Ace Liposome Renewal Whitening Serum
$67.90 (30ml)
Ace Renewal & Repairing Mask
$22.90 (3pc)
Ace Revitalizing Eye Serum
$36.90 (15ml)
Ace Pore Concealing & Revitalizing Base Gel
$33.90 (50ml)
Ace Intensive Whitening Lotion
$26.90 (120ml)
Ace Revitalizing Hydrating Fluid
$39.90 (50ml)
Neogence ACE Revitalizing and Brightening Series is exclusively available in Sasa.
Right now, Sasa is having a 10% introductory discount on this series. PLUS! Receive Ace Renewal & Repairing Mask (1pc) worth $7.60 when you buy any Neogence product. While stocks last!
Mark down your calendar on the 17th & 24th Feb as Sasa will be having a Ace Renewal & Repairing Mask giveaway & promotion exclusively for Sasa fans!
Review(s) on this series will be up next!