Like it or not, I'm hitting my 30s in less than 2 years time. From breakouts (in the past) to fine lines (as of now) to wrinkles (in the future *SIGH*), I can't seem to stop worrying about my skin. My endless pursuit of good complexion, relentlessly feeding my skin with various skincare products. 
Anyway, in this post, I'll be talking about this advanced anti-aging product by Olay - Regenerist Wrinkle Relaxing Cream.
Olay Regenerist Wrinkle Relaxing Cream diminishes the appearance of wrinkles in just one application. It works by utilizing optics-based skincare to smooth skin's surface by filling the "valleys" between fine lines and wrinkles with a breakthrough proprietary blend of 3 different sizes of optical powders that smoothen the skin.
Not only is Olay Regenerist Wrinkle Relaxing Cream a quick-fix wrinkle minimizer, it also decreased the volume of deep eye lines by 20% after 14 days of twice-daily treatments. The high concentration of intense humectants in the formula also enables skin to be suppler to expression lines, which slows down their progression to permanent lines and wrinkles.
How to use?
After cleansing, apply Olay Regenerist Wrinkle Relaxing Cream on face and neck, focusing on areas with wrinkles. Use this day and night.
***For best results, apply Olay Regenerist Microsculpting Serum evenly on the face, neck and décolletage prior applying Olay Regenerist Wrinkle Relaxing Cream.***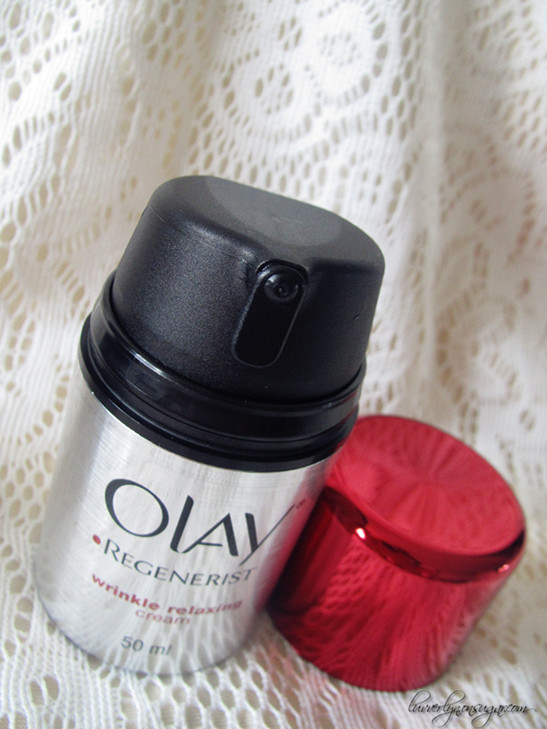 It comes in a sleek silver pump bottle, with a metallic red cap. To dispense the product, you got to remove the black rectangulish stopper and lightly press the pump.
Olay Regenerist Wrinkle Relaxing Cream has a gel-cream consistency with a silicone feel. It doesn't feel overly rich, which is easy to apply and spread on the skin. Most importantly, it smoothen my skin instantly, subtly blurring the fine lines and pores.
By the way, it is heavily scented. Hmm... it smells like those salon hair shampoo/conditioner, pleasant but unnecessary. Well, the scent does dissipate shortly after application.
If you don't already know, Olay is having a Moneyback campaign HERE. If you are not satisfied with the product, you get your money back (receipt is required).
Having tried the product for a week, I'm quite satisfied with Olay Regenerist Wrinkle Relaxing Cream since it doesn't cause any breakouts or clogged pores so far. I think it works well as a light silicone-based primer for powder foundation, which is pretty similar to Sampar Glamour Shot. I like it enough to say "NO" to this Moneyback campaign.
That's all for now. Thank you for reading!
***All product info are extracted from Cozycot.com.***