Besides Sooryehan & Beyond, I also received Beauté Revital snail products, also from LG Household and Health Care. You can purchase 'em via The Face Apps.
Beauté Revital Power Snail Cream
$89.90 / 45ml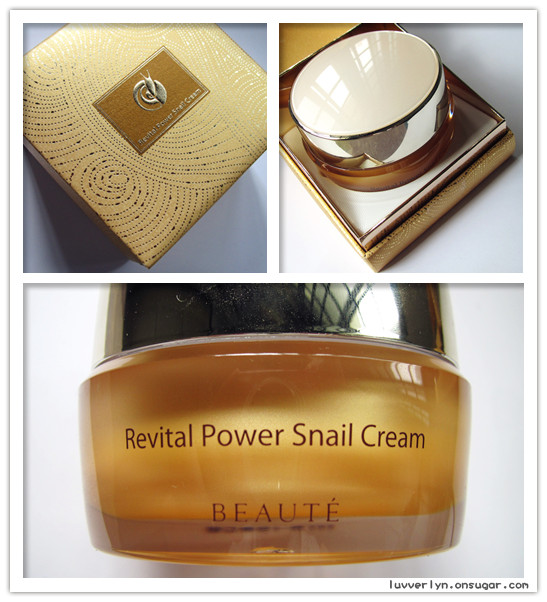 Contains 60.04% snail secretion filtrate!
An extra mild snail cream that enhances the regeneration ability of stem cells with the natural self-healing power of snails.
This all-natural snail cream uses, instead of high purified water, a high concentration of mucin, an ingredient present in the viscous secretion of snails that gives snails their self-healing ability to move across a razor blade unscathed.
Rich in chondroitin sulfates, mucin visibly reduces skin troubles and blemishes with the amazing power to revitalize skin and protect it from harmful surroundings, leaving skin smooth, clear and clean. Also, the rapid lifting effect of sweet almond proteins leaves skin firm, while natural biopolymers generated from soy fermentation maintain hydration.
How to use?
Spread cream into a thin layer over cheeks and forehead.
Lightly pat skin with palms.
Continue patting until the viscous substance has been fully absorbed.
7-free:- artificial colorant-free, ethanol-free, mineral oil-free, triethanolamine-free, benzophenon-free, BHT-free, GMO-free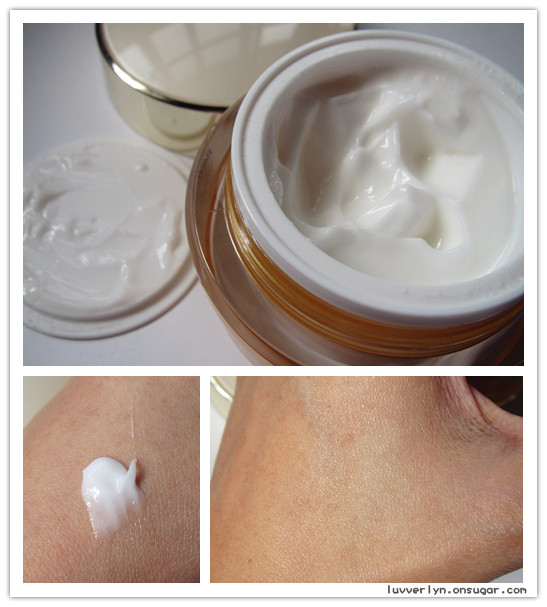 It is housed in a typical acrylic jar and comes with a spatula (not pictured) for hygiene purpose.
I've been using this for a month so far. This is the final step of my skincare routine, after toner and serum. That is, if I'm not using Sooryehan Fermented Overnight Pack.
I prefer to use it at night as I find that the consistency to be too rich for day use. Mildly gummy, I would say. Inevitably, it does take a while to absorb. I'll lightly pat the skin for a few mins until I feel it's fully absorbed. Once absorbed, it doesn't feel as sticky as before.
Hmm... there's one thing that this product can do without - the strong sweet creamy scent (I think it's the sweet almond proteins?), which can be rather overwhelming. Well... as long as the product works well, nothing else matters right? heh.
Overall, I like that it is effective in skin regenerating... the healing of blemish scars and improvement in natural skin tone. My complexion is visibly clearer and smoother now. It also hydrates the skin pretty well, leaving it soft and supple. Moreover, it doesn't clog pores or cause any irritations/breakouts. Thumbs up! ♥
Beauté Revital Power Snail Mask

$9.90 / 1pc
It contains 0.5% of snail secretion filtrate.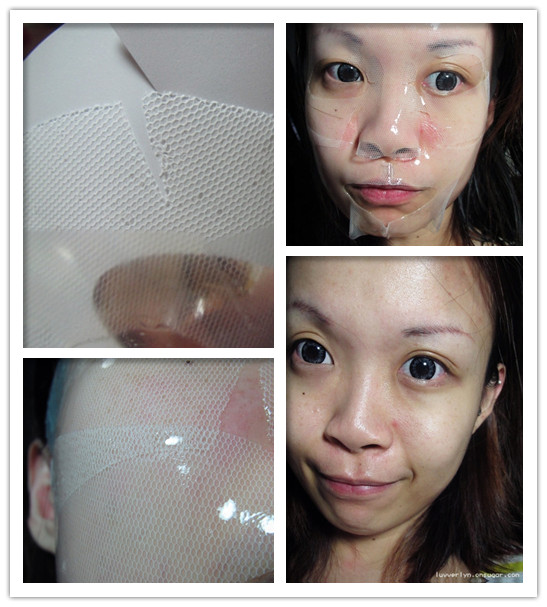 The hydrogel mask material is thin and translucent, and the texture is similar to that of agar-agar. It comes in upper and lower parts, wedged between a white plastic sheet and a clear film... which I've encountered slight difficulty in getting the mask out. Part of the mask doesn't adhere to the skin well. Upon applying on the mask, there's a nice cooling sensation.
I leave on the mask for about 20 mins. The essence has faint whiffs of floral, very pleasant. It has a runny consistency, which feels mildly slimy. Instead of rinsing with water (after mask removal), I lightly pat the essence until it's fully absorbed into skin. It only takes about few mins, by the way. Ahh... it feels so nourishing for the skin!
Within such a short time span, the mask has the incredible ability to soothe most of the redness on my skin (due to light extraction). It also hydrates the skin very well. My skin looks much brighter and glowy after mask-ing. Definitely one of the better masks I've tried so far.
Promotion:
3

FREE

Snail Masks with every Snail Cream purchase

FREE

Klairs facial mist

with $80 purchase

FREE

2 masks + registered post with $50 purchase
1st 50 customers with ANY purchase will get a set of Klairs samples 

FREE
AND
remember to join the Klairs Giveaway HERE! Ends 26th April 2012 2359H.
***All product info are extracted from press release.***