To be honest, I was never a fan of Crocs. Oh well, never say never. heh.
Hmm... it was only until I saw their new styles, that I can now proclaim Crocs was no longer... just a clog! Oh yeah!~
Crocs @ Vivocity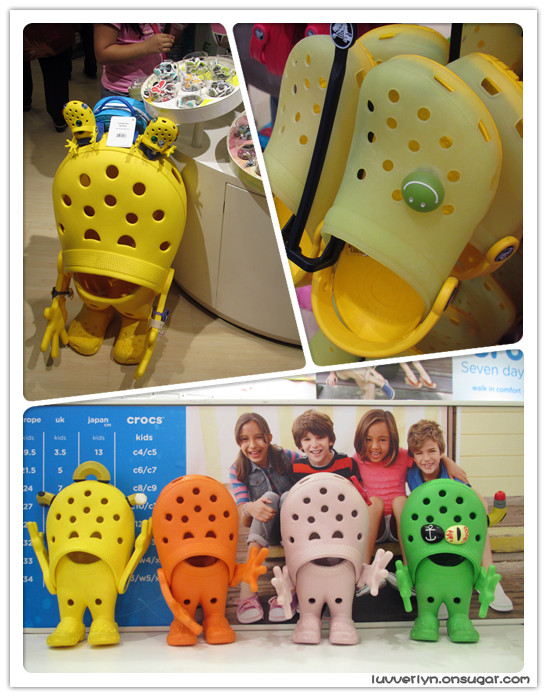 While I think the original Crocs slip-on look incredibly cute on kids, I can't quite say the same for adults... :S
Jibbitz - adorable shoe charms to decorate & personalize your Crocs.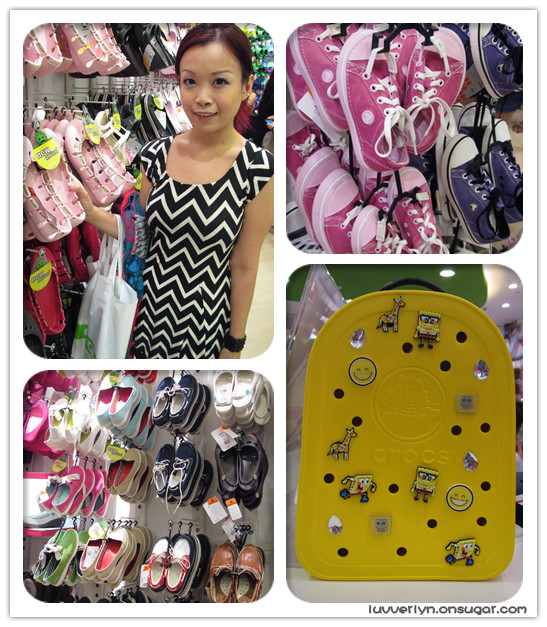 OOTD: Like a Jagger (MadAboutJu)
Crocs new line of sneakers, peep-toes, wedges and boat shoes deliver the same comfort as the originals.
Crocs VivoCity Fashion Show!
The fashion show features Crocs new collection, paired with a variety of outfits (from casual to dressy).
The all-new Crocs are comfortable with style... very eye-catching indeed. Perfect eye-candies!
Love her smile (:
My eye-candy of the day! CUTE RIGHT?! :P
My beloved Carter Large Tote Bag from Tocco Tenero ♥
My 1st pair of Crocs!
***image credits to Crocs Singapore***
After much contemplation, I decided on this bold & basic Carlisa Mini Wedge ($114.90).
There are 3 colors to choose from -- Viola/pink Lemonade exudes cute girly charm, while the classic Black/Silver and Espresso/Bronze colours add the 'ooh' factor to your everyday work attire.
I chose Espresso/Bronze, simply b'coz the color is easy to match with most of my usual outfits. Dresses, mainly.
I especially like the 2-inch heel height it comes with, which makes it look not too casual.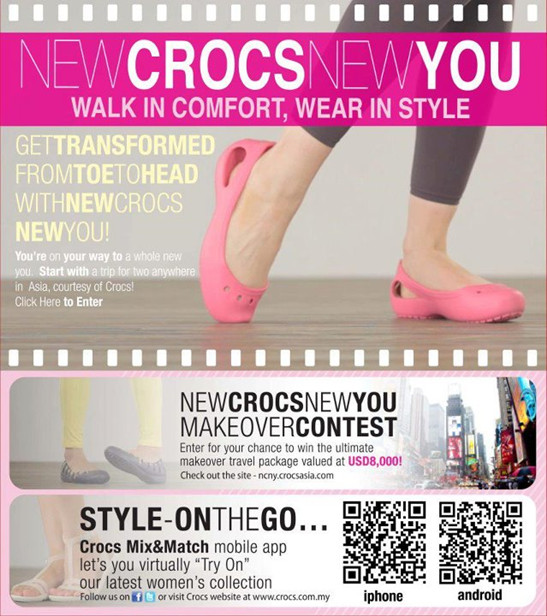 ***image credits to Crocs Singapore***
Download the Crocs Mix & Match mobile app (iPhone, Andriod) and try on the shoes virtually. This app lets you snap a picture of your outfit, allows you to choose the focus colors, and then matches the best pair of Crocs shoes to coordinate with what you're wearing. Interesting yea?
CLICK HERE to join the New Crocs, New You makeover contest and stand to win a shopping spree, makeover, shoes, and a trip to your favorite city! All you need to do is to tell Crocs why you want a makeover in less than 500 words. Easy peasy!