Thai food is one of my favorite cuisines. My standard order(s):- tom yum seafood, pineapple fried rice, phad thai, green curry chicken. Thanks to TSS invite, I had the opportunity to try out the Thai food at Ah Loy Thai.
100 Beach Road #01-39/40
Shaw Leisure Gallery
Nice, cozy ambience.
Beautiful lightings.
The ridiculous generous amount of food for 9 ladies.
***No comments for those dishes I didn't try.***
Their best-selling beverages - Homemade Thai Lemon Grass Drink ($2.30) & ★ Traditional Thai Milk Red Tea ($2.00)
I prefer the latter. I like that it's not overly milky, with a stronger tea taste.
The former taste exactly like Hack's Sweet - Lemon. That's weird, to me.
Papaya Salad ($5.30)
Crunchy green papaya bits. A mix of sour & spicy taste.
My 1st time trying. I still prefer the usual Mango Salad.
★ Fried Butter Calamari ($7.50)
Flavorful buttery taste. Reminds me of cereal prawns, seriously.
Super yummy! I love this dish!
★ Thai Mango Crispy Chicken ($7.50)
The mango is exceptionally sweet! The fried chicken looks normal, but taste really good!
My favoritest! Highly recommended!
Thai Green Curry ($6.50)
I only ate a tiny piece of chicken, which is pretty tender.
The coconut taste is quite strong. A lil' too sweet for my liking.
★ Pineapple Fried Rice ($5.90)
Honestly, this taste more like normal fried rice.
Overall, this dish is nice (though it has no pineapple taste), I LIKE!
Tom Yum Fried Rice ($6.90)
***Available only from 3-6pm***
★ Thai Garlic Pork ($6.90)
Super tender pieces of pork. Though it's fried, but it doesn't taste too oily.
I like that the garlic taste is not too overwhelming.
Thai Pandan Chicken ($9.00)
My mum used to make these in the past. And, they tasted heavenly.
A lil' oily. The meat is acceptably tender, with a hint of sweetness.
Hmm... this dish doesn't taste as good as my mum's.
I think the rest like it very much though.
★ Tom Yum Seafood ($6.90)
I tasted the clear one. Quite tasty.
Love the sour + spicy kick! :d~
My 1st reaction: "SO CUTE!!!"
Thai Lemon Fish ($13.50)
Hmm... I love eating fish, but I didn't really like the taste of this though.
Thai Lemon Grass Steam Fish ($13.50)
Fried Kailan ($4.50)
Just a normal veggie dish. Fresh, crunchy taste.
I hate the garlic. Eeks.
★ Fried Sweet Potato Leaf ($4.50)
Super duper nice (though there's garlic)!
Phad Thai ($5.90)
Too dry. I don't like.
Stir Fried Basil Leaf with Chicken ($5.80)
Stir Fried Basil Leaf with Pork ($5.80)
I prefer the one with pork. More tasty, in my opinion.
I don't like the taste of basil leaf though.
Thai Black Pepper Crispy Fish ($14.50)
★ Thai Crispy Spicy Sauce Fish ($12.00)
The crispy fish itself taste very-very good!
I don't like the spicy sauce though.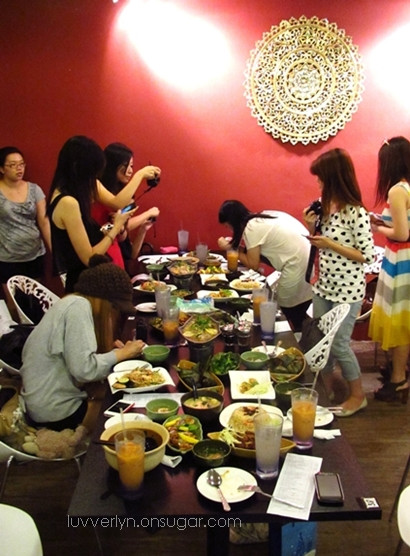 O.O!!!
All of us were extremely full and bloated.
Bloggers at "work".
Elfaine, busy with her new camera :D
Group pic
(PS: That's Valerie beside me...)
Overall, I enjoy the dining experience at Ah Loy Thai. Cheap & good food indeed. NETT price; no GST/service charge. Will definitely go back for more! They still have lots of dishes, which I've yet to try... Glutinious Rice with Mango sounds niceee... AND of coz, my favoritest Thai Mango Crispy Chicken! :d~
Any cheap & good thai food to recommend? ♥