Reading beauty blogs can be dangerous for the wallet. I've been trying my best to resist temptation(s) every now and then. And, I managed to "behave" well so far... BUT I recently caved in after reading Sophia (makeupblogette)'s posts on NARS x Guy Bourdin Holiday Collection (LIMITED EDITION) - the one on the coveted Fling Lip Kit. When I saw the photos and swatches, I was sold. Lucky me managed to get the lip kit... I was so scared that it got sold out! Hmm... not sure if the lip kit is still available as of now. I think it should be sold out? :x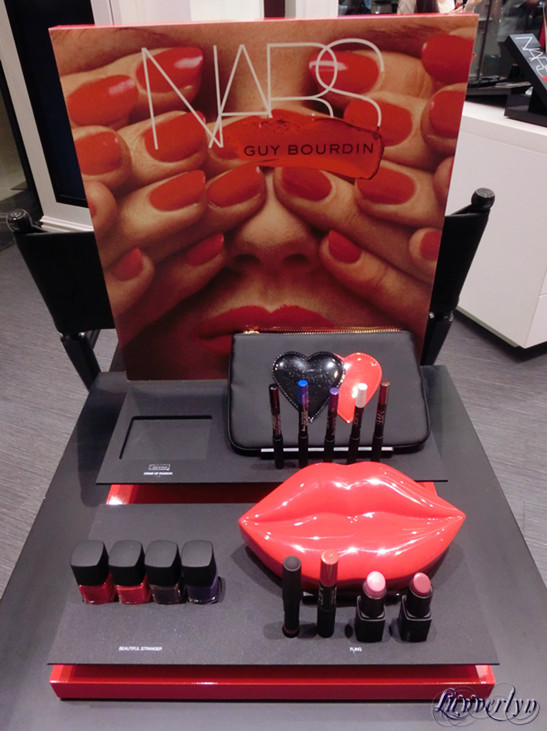 By the way, I seeked permission before taking these photos at TANGS Orchard yea... (: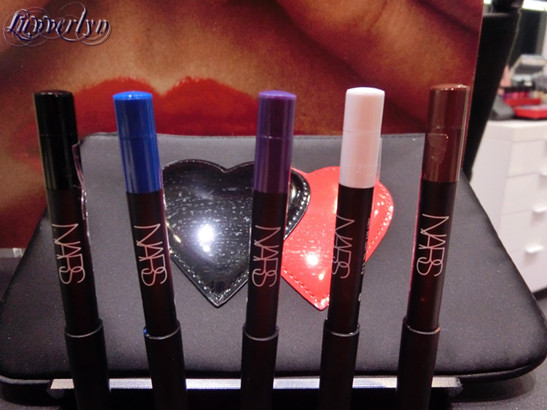 Voyeur Mini Larger Than Life Long-Wear Eyeliner Set (Limited Edition)
Suspense. Surrealism. Cinematic intrigue. François Nars pays homage to the hypnotizing editorial world of Guy Bourdin with five uninhibited shades of Larger Than Life Eyeliner enveloped in a sumptuous satin and patent heart-embellished pouch (7.75in width x 4.75in length).
Via Veneto: Jet black
Most Wanted: Cyan blue (limited edition)
Blue Dahlia: Deep violet (limited edition)
Santa Monica Blvd: White
Via Appia: Copper brown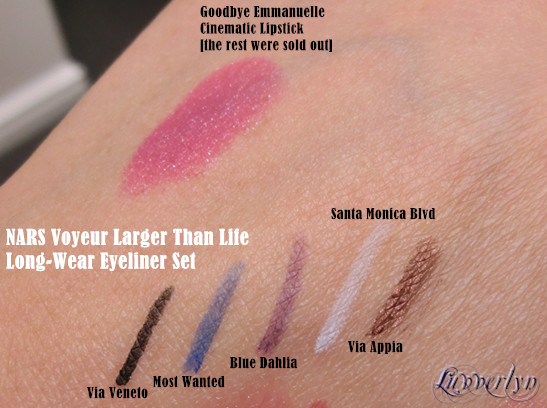 Cinematic Lipsticks (Limited Edition)
Limited edition and created exclusively for the NARS Guy Bourdin Holiday Collection, Cinematic Lipstick delivers intense color saturation with a gorgeously glossy shine. Creamy and comfortable, featuring an innovative blend of lip conditioners and antioxidants known to hydrate, nourish and protect lips. Full coverage finish. Enriched with Monoï butter and Vitamin E.
Goodbye Emmanuelle: Hot pink
Last Tango: Dusty rose
Future Red: Cherry
Short Circuit: Fire coral
Full Frontal: Rose violet
CLICK HERE
for Sophia's writeup and swatches.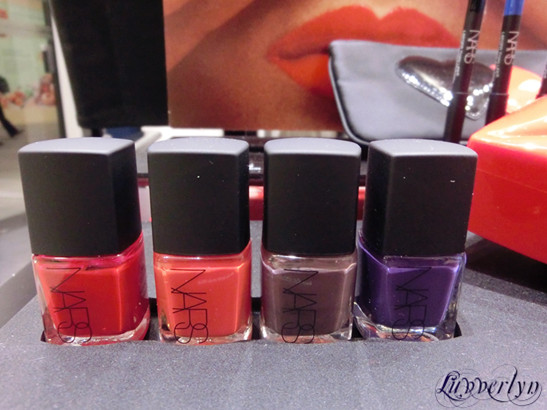 Beautiful Stranger Nail Polish Set (Limited Edition)
Part art. Part fantasy. Pure fashion. The editorial world of Guy Bourdin was one of insurmountable glamour and transfixing, sexually-charged images. NARS embraces the seductive spirit of Bourdin with this collection of provocative polishes in four hyper-saturated shades.
Lost Red: Bright red (limited edition)
Shameless Red: Bright pink (limited edition)
Manosque: Deep smoky lavender
Dance Dance Dance: Bright purple (limited edition)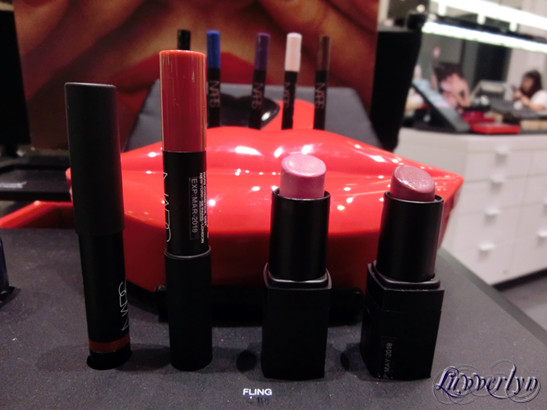 Fling Lip Kit (Limited Edition)
NARS celebrates the editorial creations of Guy Bourdin with a limited-edition lip kit designed to give you the perfect pout.
Dolce Vita Mini Velvet Matte Lip Pencil: Dusty rose
Baroque Mini Velvet Gloss Lip Pencil: Raspberry sorbet
Roman Holiday Lipstick: Pretty pastel with delicate hint of pink
Damage Lipstick: Sheer muted grape
Keepsake Lacquered Lip Case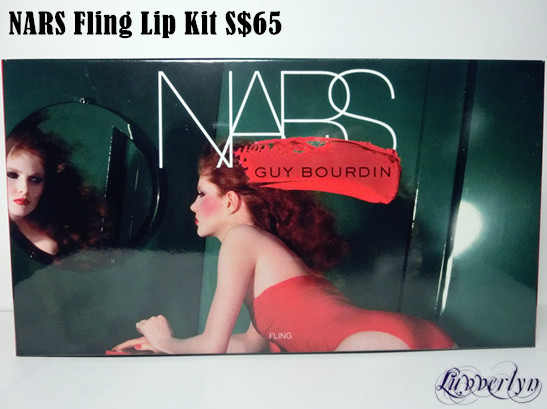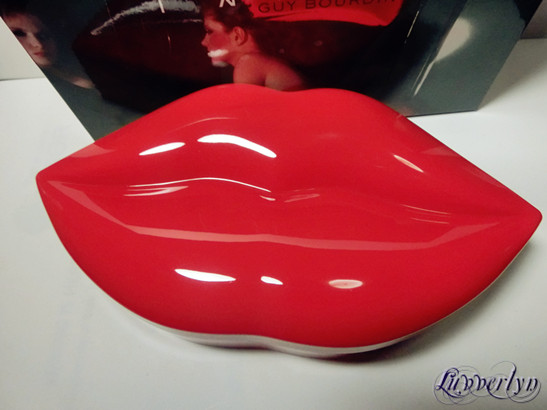 Tell me, ain't this sexy-in-red lacquered lip case gorgeous?! Most importantly, it feels sturdy. Definitely not those cheap plastic kind. One of the reasons I got this Fling Lip Kit ❤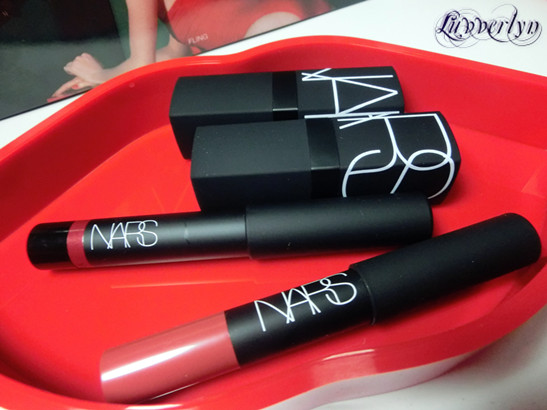 The Fling Lip Kit contains 2 full-size lipsticks and 2 mini lip pencils - all pretty and wearable shades.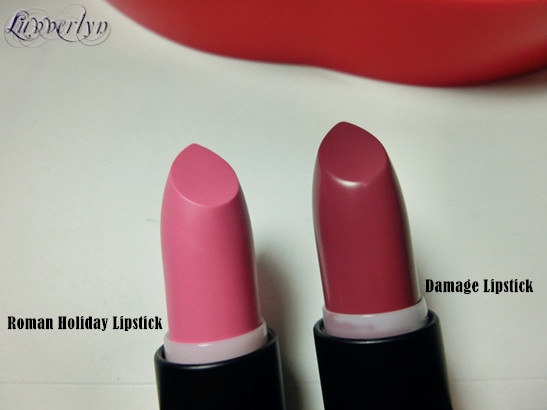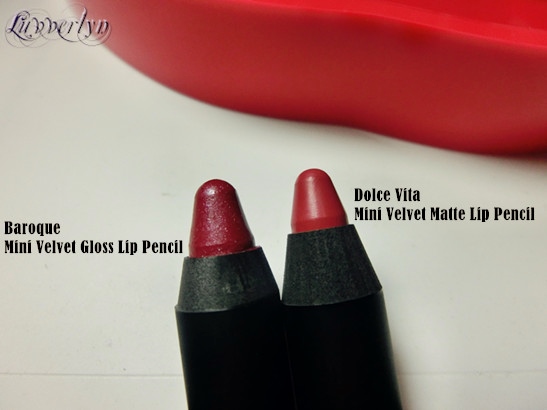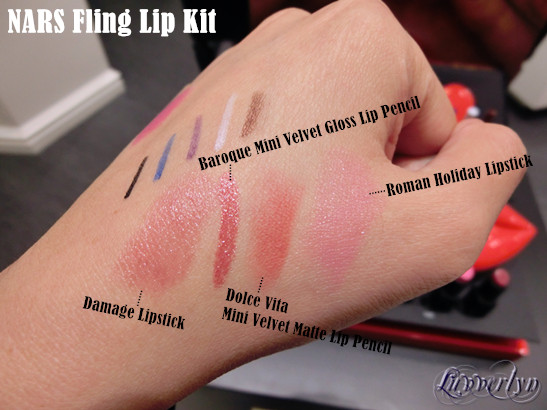 Here are the swatches of the lippies.
Thank you for reading! Monday blues start tomorrow... =.=zzz
***All info are extracted from www.narscosmetics.com.***